Dentist Blog
Posts for tag: extractions
By Hidden Lakes Dental Care, PC
September 07, 2018
Though treatments are available to help you save your teeth when they are in a state of decay, there are cases where the only treatment is to extract a tooth and replace it with a new one. Understand the reasons why a dentist at Hidden Lakes Dental Care in Bolingbrook, IL may advise you to have a tooth extracted.

What Is Tooth Extraction?
The process of manually removing a loose, damaged, injured, or infected tooth from the jawbone is called extraction. It is done under sedation by your dentist. Extraction is a measure that's only suggested when other treatments have failed and the tooth is causing more harm than good. It's best to let your Bolingbrook, IL dentist perform the extraction so that bone tissue can be preserved and there will be a good chance you'll be a candidate for a dental implant. A bone grafting procedure (promotes the growth of healthy bone tissue) may also be suggested directly after extraction.

Reasons for a Tooth Extraction
If you have been struggling with intense tooth pain for an extended period of time without treatment and notice that a tooth is starting to loosen from its socket, this is a sign that you may need to have it extracted. This means the infection is worsening, the bone tissue is breaking down, and the problem could spread to other teeth if it isn't promptly treated by your Bolingbrook, IL dentist. A patient who has advanced periodontitis that doesn't respond to periodontal therapy may also need to have one or more teeth extracted to preserve the health of the whole mouth. Another sign that you may need to have a tooth extracted is if you're experiencing pain in the back of your mouth due to impacted wisdom teeth.

Next Steps After Extraction
Having a tooth extracted does not mean that you have to live with a large gap in your smile. Your dentist will examine your X-rays to explore the possibility of adding a permanent dental implant. If lack of sufficient bone tissue is an issue, specialty dentures are an option. It is a good idea to discuss these measures with your dentist at your next appointment.

Consult with Your Dentist
Tooth extraction is sometimes necessary to preserve the health of your entire smile. After consulting with a dentist at Hidden Lakes Dental Care in Bolingbrook, IL you may learn that other treatments may be available to save your tooth. Call (630) 759-0077 today for an appointment with Dr. Kathryn Bachinski or Dr. Christine Petrilla.
By Hidden Lakes Dental Care, PC
February 26, 2015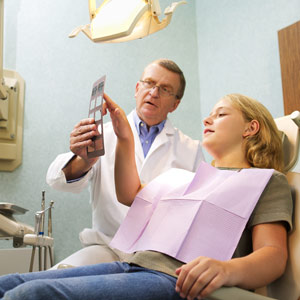 Teeth crowding is a difficult bite problem (malocclusion) that often involves the entire jaw structure to be evaluated. Normally occurring when the jaw doesn't have adequate space for normal tooth eruption, teeth coming in later put pressure on other teeth, causing them to develop improperly.
Crowding also makes it difficult to realign teeth with braces because there's simply not enough room for sufficient movement to take place. The solution may then be to consider the removal of some of the teeth to create enough space for orthodontic treatment.
Not just any tooth can be removed, however — we must first conduct a careful analysis to determine which can be removed to facilitate optimum movement of the remaining teeth without disrupting normal mouth function or affecting appearance. The teeth most frequently removed for this purpose are the bicuspids, located between the cuspids or eyeteeth (which are positioned directly under the eyes) and the molars, the largest teeth in the back of the mouth. Sometimes one premolar tooth on each side of the jaw can be removed without sacrificing future form or function.
There are a few important considerations we must keep in mind when extracting teeth for orthodontic reasons; perhaps the most important is preserving bone at the extraction site. Because continuing bone growth depends on the forces generated by teeth when we bite or chew, bone near a missing tooth socket will tend to diminish over time. If there's insufficient bone during orthodontic treatment, it may result in gum recession and root exposure — not only damaging to the teeth themselves but also to a person's smile appearance. To avoid this, we sometimes will consider inserting a bone graft, which will stimulate bone growth, into the empty socket immediately after extraction. While this isn't commonly done, it's being considered if the patient's bone is thin and a concern during healing.
We must also consider how to accommodate other, unrelated tooth loss to assure the final result is visually appealing. It may be necessary in these cases to maintain the space at the missing tooth site for a future restoration once the orthodontics is completed. This takes planning as well as the use of restorations like dental implants, bridges or partial dentures.
Regardless of your bite issues, the field of orthodontics has the appliances and techniques to overcome even the most complicated condition. When necessary, using procedures like tooth extraction can help turn an unappealing, dysfunctional bite problem into a beautiful smile.
If you would like more information on orthodontic teeth extractions, please contact us or schedule an appointment for a consultation. You can also learn more about this topic by reading the Dear Doctor magazine article "Tooth Removal for Orthodontic Reasons."