Dentist Blog
Posts for tag: tooth decay
By Hidden Lakes Dental Care, PC
August 06, 2019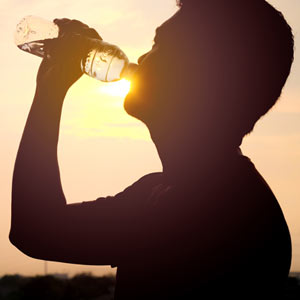 In many parts of the country, summer is often a synonym for "blast furnace" and can be downright hot and miserable. If you find yourself in such a climate, it's imperative that you drink plenty of water to beat both the heat and heat-related injuries. Your teeth and gums are another reason to keep hydrated during those hot summer months.
Your body needs water to produce all that saliva swishing around in your mouth. When you have less water available in your system, the production of this important bodily fluid can go down—and this can increase your risk of dental disease. That's because saliva performs a number of tasks that enhance dental health. It helps rinse the mouth of excess food particles after eating that could become a prime food source for disease-causing bacteria. It also contains antibodies that serve as the first line of defense against harmful microorganisms entering through the mouth.
Perhaps saliva's most important role, though, is protecting and strengthening enamel, the teeth's outer "armor" against disease. Although the strongest substance in the body, enamel has one principal foe: oral acid. If the mouth's normally neutral pH becomes too acidic, the minerals in enamel begin to soften and dissolve. In response, saliva neutralizes acid and re-mineralizes softened enamel.
Without a healthy salivary flow protecting the mouth in these different ways, the teeth and gums are vulnerable to assault from bacteria and acid. As they gain the upper hand, the risk for tooth decay or periodontal (gum) disease can skyrocket. Keeping yourself adequately hydrated ensures your body can produce an ample flow of saliva.
By the way, summer heat isn't the only cause for reduced saliva: Certain prescription medications may also interfere with its production. Chemotherapy and radiation, if targeting cancer near the head or neck, can damage salivary glands and impact flow as well.
If you have reduced saliva from medication you're taking, talk to your doctor about switching to an alternative prescription that doesn't affect saliva production. If you're undergoing cancer treatment, be extra vigilant about your oral hygiene practice and regular dental visits. And as with summer heat, be sure you're drinking plenty of water to help offset these other effects.
Even when it's hot, summertime should be a time for fun and relaxation. Don't let the heat ruin it—for your health or your smile.
If you would like more information about the oral health benefits of saliva and how to protect it, please contact us or schedule an appointment for a consultation.
By Hidden Lakes Dental Care, PC
June 17, 2016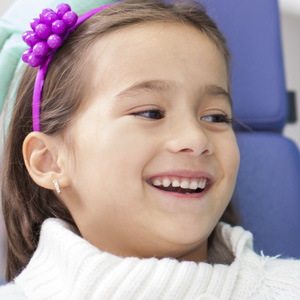 As a parent you're always on the lookout for dangers to your toddler's well-being: sharp corners on furniture, uneven walks or the occasional stomach bug. But a situation could be brewing in their mouth you might not be aware of until it's become a full-blown problem.
The silent danger is tooth decay, which could be developing as early as infancy. Undiagnosed and untreated, it could ultimately cause premature loss of primary ("baby") teeth with adverse effects on the eruption of incoming permanent teeth.
Tooth decay arises from certain strains of mouth bacteria, often passed down from parent to child. These bacteria produce acid as a byproduct after feeding on carbohydrates (especially sugars). The more food available, the more acid they produce. This wreaks havoc on tooth enamel, the teeth's outer protective covering by softening and dissolving its mineral content. This gives decay an opening to infect the interior of a tooth.
Combine inadequate hygiene practices (especially brushing) with poor dietary habits, and you have the conditions for a perfect disease storm in your child's mouth. That's why you should begin oral hygiene as soon as you notice their first teeth. Wiping them with a clean, wet cloth is sufficient in the beginning, but you should start daily brushing (with fluoridated toothpaste to strengthen young enamel) by their first birthday.
You should also practice good dietary habits. For example, avoid giving an infant or toddler a bottle filled with juice, milk or formula to sleep with through the night — the constant sipping bathes the mouth in sugars bacteria feed on. Instead, use plain water. You should also focus on nutrition from the get-go to help build overall good health as well as strong teeth and gums.
As an added measure, begin regular dental visits by their first birthday. A checkup and cleaning every six months will help us detect early tooth decay and lessen its impact. We can also provide sealants and topical fluoride to give added protection against decay.
Catching and treating decay early before it gets too far is the best way to prevent early tooth loss. Your child's future dental health might depend on it.
If you would like more information on your child's dental care, please contact us or schedule an appointment for a consultation. You can also learn more about this topic by reading the Dear Doctor magazine article "Taking the Stress out of Dentistry for Kids."
By Hidden Lakes Dental Care, PC
May 22, 2015
Over the last century dentistry has acquired the knowledge, techniques and treatments to prevent or minimize tooth decay. With this enhanced knowledge we've amassed a wealth of data about what increases dental disease development and what prevents it.
This has produced a balanced approach to identifying and treating disease-causing factors and incorporating factors that inhibit tooth decay. Known as Caries Management By Risk Assessment (CAMBRA), this approach first identifies each patient's individual set of risk factors for dental disease and then develops a customized prevention and treatment plan to minimize their risk.
Rather than simply reacting to occurrences of tooth decay — "drill and fill" — CAMBRA anticipates and targets your susceptibility to decay. The primary factors can be represented by the acronym BAD: Bad bacteria, particular strains that produce acid, which at high levels erode enamel and expose the teeth to infection; Absence of saliva, or "dry mouth," an insufficient flow of saliva that can't effectively neutralize acid and restore mineral content to enamel; and Dietary habits too heavy in sugar or acid, which can result in bacterial growth and enamel erosion.
With an accurate picture of your particular risk level we can then apply countering factors from the other side of the balance — those that protect teeth from decay. In this case, we use the acronym SAFE: stimulating Saliva flow when needed or applying Sealants on chewing surfaces most susceptible to decay; Antimicrobials that reduce unhealthy bacteria levels and give healthy bacteria an opportunity to thrive; incorporating Fluoride, a chemical known to strengthen enamel, through hygiene products or direct application to the teeth; and an Effective diet, low in sugar and acid and high in fresh fruits, vegetables and whole grains.
There are a number of preventive and treatment measures that fall into each of the four preventive factors. Using the CAMBRA approach we can develop a treatment and prevention plan that incorporates measures that uniquely fit your dental health situation. With such a plan we can greatly reduce your risk of disease development and impact and better ensure a long and healthy life for your teeth and gums.
If you would like more information on managing dental disease prevention, please contact us or schedule an appointment for a consultation. You can also learn more about this topic by reading the Dear Doctor magazine article "Tooth Decay: How to Assess Your Risk."