Dentist Blog
Posts for: January, 2019
By Hidden Lakes Dental Care, PC
January 18, 2019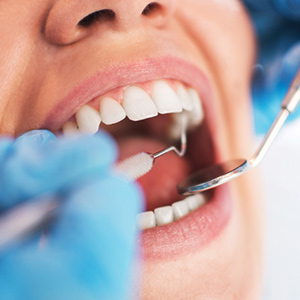 Periodontal (gum) disease is as common as it is destructive. Almost half of all adults 30 and older have some form—and those numbers increase to nearly three-quarters by age 65.
Fortunately, we have effective ways to treat this bacterial infection, especially if we catch it early. By thoroughly removing all plaque, the disease-causing, bacterial biofilm that accumulates on tooth surfaces, we can stop the infection and help the gums return to normal.
Unfortunately, though, you're at a greater risk for a repeat infection if you've already had gum disease. To lower your chances of future occurrences, we'll need to take your regular dental exams and cleanings to another level.
Although everyone benefits from routine dental care, if you've had gum disease you may see these and other changes in your normal dental visits.
More frequent visits. For most people, the frequency norm between dental cleanings and exams is about six months. But we may recommend more visits for you as a former gum disease patient: depending on the advancement of your disease, we might see you every three months once you've completed your initial treatment, and if your treatment required a periodontist, we may alternate maintenance appointments every three months.
Other treatments and medications. To control any increases in disease-causing bacteria, dentists may prescribe on-going medications or anti-bacterial applications. If you're on medication, we'll use your regular dental visits to monitor how well they're doing and modify your prescriptions as needed.
Long-term planning. Both dentist and patient must keep an eye out for the ongoing threat of another gum infection. It's helpful then to develop a plan for maintaining periodontal health and then revisiting and updating that plan as necessary. It may also be beneficial to perform certain procedures on the teeth and gums to make it easier to keep them clean in the future.
While everyone should take their oral health seriously, there's even greater reason to increase your vigilance if you've already had gum disease. With a little extra care, you can greatly reduce your chances of another bout with this destructive and aggressive disease.
If you would like more information on preventing recurring gum disease, please contact us or schedule an appointment for a consultation. You can also learn more about this topic by reading the Dear Doctor magazine article "Periodontal Cleanings."
By Hidden Lakes Dental Care, PC
January 08, 2019
We're all familiar with tried and true traditional braces and perhaps with newer clear aligners for realigning teeth. But there's an even more novel way that's quickly becoming popular: lingual braces.
This type of braces performs the same function as the traditional but in an opposite way. Rather than bonded to the front of the teeth like labial ("lip-side") braces, these are bonded to the back of the teeth on the tongue (or "lingual") side. While labial braces move teeth by applying pressure through "pushing," lingual braces "pull" the teeth to where they need to be.
Although lingual braces are no better or worse than other orthodontic methods, they do have some advantages if you're involved in sports or similar physical activities where mouth contact with traditional braces could cause lip or gum damage, or if your work or lifestyle includes frequent snacking or eating, which requires continually removing clear aligners. And like aligners, lingual braces aren't noticeable to the outside world.
But lingual braces typically cost more: as much as 15-35% more than traditional braces. They can initially be uncomfortable for patients as the tongue makes contact with the hardware. While most patients acclimate to this, some don't. And like traditional braces, it's hard to effectively brush and floss your teeth while wearing them. This can be overcome, though, by using a water flosser and scheduling more frequent dental cleanings while you're wearing them.
For the most part, lingual braces can correct any poor bite (malocclusion) correctable with labial braces. The treatment time is also comparable, ranging from several weeks to a couple of years depending on the malocclusion. And, as with any other orthodontic method, you'll need to wear a retainer once they're removed.
Lingual braces have only been available in a limited fashion for a few years, but their availability is growing as more orthodontists train in the new method. If you're interested in the lingual braces approach, talk to your orthodontist or visit www.lingualbraces.org to learn more.
If you would like more information on lingual braces, please contact us or schedule an appointment for a consultation. You can also learn more about this topic by reading the Dear Doctor magazine article "Lingual Braces: A Truly Invisible Way to Straighten Teeth."